A prior note: I began writing this entry early in Israel's campaign against Gaza. The purpose of this journal is to not be silent about what's going on in the the strip, to vent my anger towards those who commit injustices and our government which abets it and create more hatred of our country abroad, and to hopefully enlighten others. Some of the things I say in this journal will probably not sit well with some readers. Please note, however, that I only look at the issue of Israel and Palestine with the lens of human rights and social justice. This, and the fact that many Jews are also opposed to what's going on in Gaza right now, renders any libelous, knee-jerk accusations of anti-Semitism baseless. Never mind, those Jews are called "self-hating," anyway. Also, this post is not necessarily a defense of Hamas. I am not a supporter of religion-based governments, which Hamas is, though it has provided vital social services for the Palestinians living in Gaza. I condemn any civilian casualties done by Hamas with their imprecise rockets. However, when one sees the civilian casualties of either side and the history of Israel's treatment of the Palestinians (read on the Nakba, the spate of ethnic cleansing that coincided with the foundation of Israel and the ultimate reason why Palestinians hate Israel), to insist that Hamas is "just as bad" or no more worse than Israel (aside from the assertions from Israel's supporters that Hamas is the only culpable party and thus over a thousand civilians deserve to die or it is "Hamas's fault") is a false moral equivalency. This is like saying that black people who develop hostility towards white people for the latter oppressing them is morally-equivalent with the anti-black racism of white people; to be sure, this is not good, but this is a dishonest attempt to shut down proper and much-needed discussion about social equality, and the conflict in Israel-Palestine is no exception.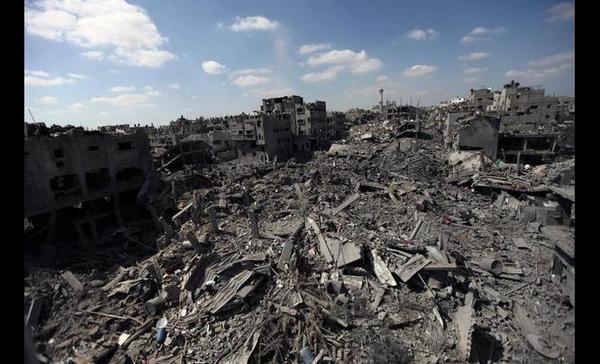 So, in response to a kidnapping, which that irrational, racist scumbag Netanyahu knew happened, Israel saw this as a golden opportunity to blame Hamas -- like it always does -- and launch their destructive invasion of the Gaza Strip. Even though Israel's military says they don't need evidence in their blaming of Hamas, an Israeli police official says that Hamas is actually not involved in the kidnapping. But who needs evidence? Destroy the Palestinians!
So far, three Israeli civilians die due to imprecise, home-made rockets. Over 1,000 Palestinians had to loose their lives, with an untold number of injuries, for this to advanced U.S.-imported weaponry -- so much for it being "precise."
Oh, and it is always convenient to blame Hamas for the fact that you willingly killed four children on the beach -- and destroy disabled centers and geriatric hospitals. Blaming Hamas becomes especially easy when you confine Gaza into such a tiny strip of land so as people have nowhere to run when Israel unleashes its destructive fury upon the strip.
This is but a few examples of the atrocities Israel committed against the people of Gaza and their infrastructure. And knowing that a hospital has no weapons doesn't stop you from destroying it like the bloodthirsty savages you are:
mondoweiss.net/2014/07/militar…
Of course, the Israel lobby subverts the media to make Israel look like the victim and present a very misleading account of what's happening in the area. In fact, NBC pulled a reporter who witnessed the attack on the beachgoing children -- who, incidentally, he was playing with -- for "safety," replacing him with somebody else and an American producer who neither speaks Arabic nor been to Gaza (
firstlook.org/theintercept/201…
). The truth is too revealing, isn't it?
Did Britain bomb Dublin to shambles in response to IRA terrorism? Alas, Israel, being a colonial-settler state, is not interested in legitimate negotiation, and wishes nothing more than the disappearance of all Palestinians.
Israel is a violent, vengeful, racist society, which, save for those few with a conscience that believe in and try to fight for justice, I have absolutely no respect for. If a bunch of Israelis in Sderot cheering as civilians, including women and children, are getting bombed and threatening a CNN reporter (
www.buzzfeed.com/dorsey/israel…
UPDATE: She was reassigned to Russia for this, but then this decision was reversed) doesn't open your eyes, then I don't know what will. Of course, she called them 'scum', but deleted the tweet afterwards. Of course, Israel supporters and complicit media were quick to denounce her as some raving anti-Semite -- the usual. Her deleting the tweet, however, doesn't make it any less true: Israel is a violent, vengeful, racist society, and I have no respect for such.
Israel's atrocities in Gaza is not "self-defense," it is nothing but state terrorism designed to break the spirit of Palestinians.
Just imagine! People who endured the worst atrocities next do the very same thing to another people. It's no help when our Tool-in-Chief Barack Obama abets this horror with his approval and the continued military aid to Israel, alongside counterrevolutionary General Sisi, whose coup against democratically-elected Morsi was possible due to continued US military aid to Egypt, keeping the Rafah border closed, preventing Palestinians from fleeing or getting the medical attention they need. On a quick tangent, his behavior at the White House Iftar Dinner was atrocious; him justifying Israel's barbarity in Gaza, followed with defending NSA surveillance on Muslim citizens.
Now, if anybody is about to ask me "but what about ISIL," this entry is also dedicated to these turds. It wouldn't be a hazard to guess that if the United States didn't aimlessly provide aid to the rebels in Syria, the legitimate, secular ones like the Free Syrian Army being displaced by terrorists like ISIL and slightly less-worse Jabhat al-Nursa, then we wouldn't be seeing any of the atrocities in Mosul as well, including the tragic ethnic cleansing of the Christians. Already, these bastards dug up and destroyed an ancient Assyrian site near ar-Raqqah, smashing statues of the characteristically wonderfully-bearded men of ancient Mesopotamia and bulldozing a lion statue. Next, these savages meet up with a weak, corrupt Iraqi army (trained and equipped by the U.S. no less) that practically surrenders immediately, allowing them to take over, oppress and destroy Mosul. They destroyed countless Shi'ite mosques, Sunni Shrines, and even Jonah's tomb. Needless to say, the residents of Mosul are having none of it; recently, some of these ISIL savages paid with their lives at their hands after destroying Jonah's tomb. Furthermore, they are now also protecting the Crooked Minaret against these dumb troglodyte shit-for-brains.
Good for them. Hopefully, the residents of Mosul will be able to overthrow these barbarians and decide a future for themselves, whether it be with Baghdad or not. Hopefully, they will be able to rebuild what was mercilessly destroyed by them. Hopefully, Christians will be able to return to the lands they were cruelly forced from.
I hope the same for the Palestinian people. May the ethnic cleansers and war criminals and the people who abet them face justice in the not-too-distant future (yes, that includes you, Obama!). May, instead of a land dominated by a colonial-settler, apartheid state, Palestine (including the lands claimed by Israel, which has no constitutionally-established borders by the way) be a single state united by peace and justice for all, Jews, Christians, and Muslims.
Some eye-openers:
Occupation 101 -
www.youtube.com/watch?v=wms0b4…
Peace, Propaganda, and the Promised Land -
www.youtube.com/watch?v=cAN5Gj…
The Electronic Intifada -
electronicintifada.net/
Mondoweiss -
mondoweiss.net/
You can only take what you hear from the mainstream media with a grain of salt, since supporting Israel is a major conflict of interest for these networks. Even people in the media are calling out the bias of these networks -- and loosing their jobs for it, see how Rula Jebreal, a contributor for MSNBC -- who I must say is one fine-looking woman, protested the gross media bias in favor of Israel and those trying to maintain it:
www.alternet.org/media/witch-h…
There is simply too much to write about here, and it is becoming exhausting, so I will end this journal entry with this paragraph. Hopefully, if you're reading this, you will check out at least a couple of the eye-openers I posted, and gain a new perspective about the conflict in Palestine. I know it might be difficult for some people, but you become a freer mind and a better person for accepting these hard truths. Lives and livelihoods will eventually be saved thanks to you, because knowledge is power. I know there will be a just solution in the end, and we, as hopeful human beings, even being weighed down by the ugliness exhibited some of our fellow humans (which we may struggle to even count among us), will make it happen.
PS: Spare me the nonsense of how Hamas exists solely to destroy Israel (which was in the 1988 founding charter but was since renounced) in order to justify Israel's atrocities and shift the blame on the Palestinians for getting their homes and infrastructure destroyed. Victim-blaming in any circumstance is one of the most reprehensible things anybody could do.